Under-threat Oxfordshire children's centres would have rents waived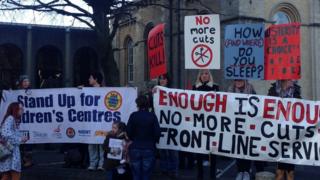 Children's centres in Oxfordshire run by community groups would have their rents waived if they face closure.
Oxfordshire County Council will close more than half of the centres by March 2017 unless they are taken over by local people or charities.
But charges for using council buildings have been described as a "stumbling block" for saving the centres.
Now the council has approved a motion to scrap charges for any groups who are struggling to pay.
Local Green Party leader David Williams put forward the motion and said the consequences would be "horrendous" if centres close.
'Open-ended commitment'
Labour councillor Gill Sanders added: "Not having to pay rental charges will be a huge benefit to very many groups and will give them the additional time to find alternative financial support."
But Conservative Yvonne Constance abstained and said it was a "very difficult amendment to support" because it was an "open-ended commitment to spend".
Community groups are being invited to bid for a share of £1m to save services previously run by children's centres being closed across Oxfordshire.
The county's 44 centres will be replaced with a network of 18 when the council withdraws funding for some non-statutory services to help save £6m.
The council has already received 17 bids for funding and the deadline for applications is January 2017.