Watlington hoard: Relics purchased for £1.35m by Ashmolean Museum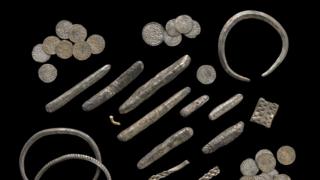 The Ashmolean Museum will keep a Viking hoard worth £1.35m after 700 members of the public contributed to its purchase.
The hoard, discovered in Watlington in 2015, dates back to the time of Alfred the Great, King of Wessex.
He successfully defended his kingdom from Viking raids between 871 and 899.
The National Lottery donated £1.05m of the money needed to purchase the hoard - which includes 200 coins. A further £150,000 was raised from Art Fund and the remaining money was donated.
Ashmolean director Dr Xa Sturgis said: "To be able to keep the hoard in the county and put it on display with the Ashmolean's Ango-Saxon collections was an opportunity we could not miss."
He added the people of Oxfordshire had been "so generous in their support".
The hoard was discovered by detectorist James Mather in October 2015.
The enthusiast was "on the verge of giving up" on the day he found the relics.
The hoard contains the extremely rare "Two Emperors" penny, which depicts Alfred the Great and Ceolwulf II of Mercia side-by-side.
The image suggests there was an alliance between the kingdoms of Wessex and Mercia, which challenges written accounts that Ceowulf was a puppet of the Vikings.
The hoard is thought to have been buried in the late 870s after the Battle of Edington in 878, where Alfred's forces defeated the Viking Great Heathen Army.
The relics will go on a regional tour, starting at the Oxfordshire Museum in Woodstock, and will return permanently to the Ashmolean Museum.