Arson suspect bailed after Didcot flat fire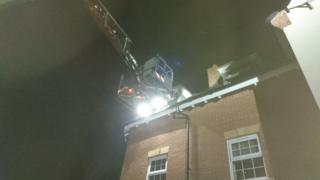 A man arrested following a flat fire has been released on bail.
The 21-year-old was arrested on suspicion of arson with intent to endanger life after a blaze at a three-storey property in Harrier Drive, Didcot, on Friday.
One man was rescued and treated at the scene for smoke inhalation, while a family was also led to safety after a neighbour raised the alarm.
The arrested man was bailed until 13 April.
Rachel Tyler and her partner alerted their neighbours after hearing a smoke alarm.
She said: "Everybody got out safely, and that's the main thing, but it was very traumatic."
One of those woken up by Ms Tyler was Jodie Spiers, whose baby is due in seven weeks. Her partner and daughter were also asleep at the time.
She said: "I can't thank them enough because they saved our lives."