Oxfordshire unitary authority plan to be submitted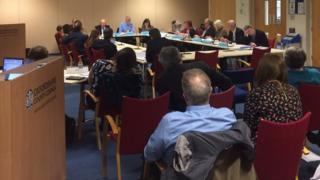 A proposal to abolish six councils and create one authority for Oxfordshire is to be submitted to the government.
Oxfordshire County Council said abolishing the current structure would save £100m over five years.
Its cabinet formally approved its decision, which council leader Ian Hudspeth called "hugely important", but three councils remain opposed.
The city council says "vital services" are at risk if decisions are taken out of its hands.
The plan is supported by South Oxfordshire and Vale of White Horse, but opposed by Cherwell, West Oxfordshire, and the city council.
Mr Hudspeth said the unitary authority plan offered the "best way to improve services and get the investment in roads and infrastructure that Oxfordshire urgently needs".
He added: "Choosing the status quo is a decision with real downsides.
"It means continuing to spend money on running six councils, rather than improving council services - which is what the vast majority of residents want.
"We are now showing that change is possible, as well as necessary."
But Ed Turner, deputy leader of Oxford City Council, called it a "vanity project" which would waste "enormous amounts of taxpayers' money".
He added: "If you just create a monster council it may be much less efficient. It will certainly respond much less to local people's needs and concerns."
The proposal will next be submitted to Sajid Javid, the Secretary of State for Communities and Local Government, for consideration.