90 rooms for Oxford University students formally opened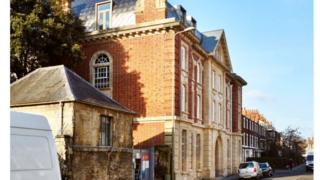 A University of Oxford college has officially opened the largest addition to its buildings since 1315.
Cohen Quad provides 90 bedrooms for students at Exeter College, the university's fourth oldest college.
It was due to be finished in August but delays meant around 90 students were living in a hotel until January.
Head of Exeter College, Professor Sir Rick Trainor said the quad was a "major step forward" as the college "moves into its eighth century."
Exeter College purchased the site in the Jericho area of Oxford in 2010 before starting demolition work in 2014.
Its redevelopment was supported by £18m worth of donations and the building has been named after the parents of Sir Ronald Cohen, the lead donor.
Exeter College student, Isabella Neil, said: "The extra living space that Cohen Quad offers means an end to Exeter College students desperately scrambling to find private housing that is 'adequate'.
"We now have the option to avoid 52 week rents, hefty deposits and administration fees, and potentially difficult landlords."