Banbury pregnant women '80 minutes from maternity consultants'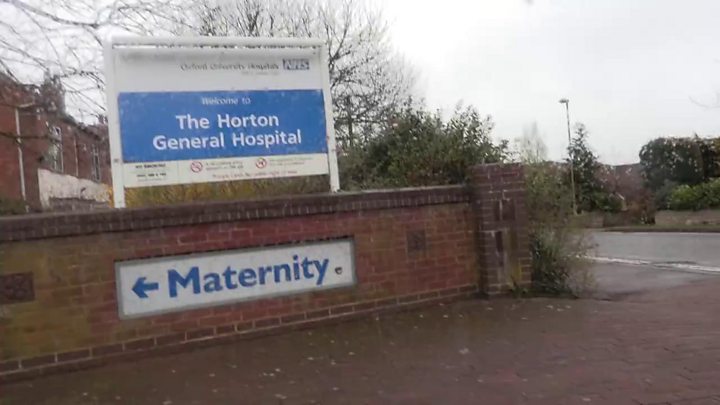 Some pregnant women in Banbury face journeys of more than 80 minutes to give birth, according to an MP.
Banbury MP Victoria Prentis is opposed to proposals that could see Horton General Hospital's maternity unit become permanently midwife-led.
Her survey of Banbury patients revealed they travel for an average 80 minutes to reach Oxford's consultant-led units.
Oxfordshire Clinical Commissioning Group (CCG) said it would consider the Conservative MP's findings.
Ms Prentis asked her constituents to send in their travel times after the maternity unit at Horton General Hospital was downgraded to a midwifery led unit temporarily, due to a shortage of doctors.
She is campaigning against proposals to make the change permanent as part of plans to redesign Oxfordshire's health service.
'Not good'
Three hundred and seventy seven completed surveys were received by her office. The data showed journeys from the Banbury area to Oxford's hospitals took one hour and 20 minutes, on average, with a further 20 minutes spent parking.
The MP said: "The Oxfordshire Clinical Commissioning Group maintains that the average journey time from Banbury to Oxford is 45 minutes.
"The data I have collected show this to not be the case."
Heidi Yates, an expectant mother from Banbury, said: "To be 35 weeks [pregnant], with the prospect of having to travel all that way... it's not very good."
"I can understand that it's good to have them [specialist doctors] in one particular place, but if you can't get there, [or] you can't get there in time, then it is completely irrelevant having all these specialists."
Oxfordshire CCG said it acknowledged the initiative taken by Ms Prentis around health journey times.
It said the results would be "considered alongside other feedback and comment as part of the Oxfordshire Transformation consultation".