Oxford child sex abuse raids: Seven men charged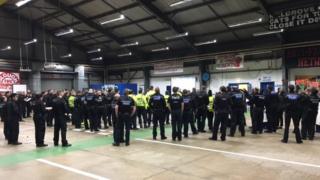 Seven men have been charged in connection with a major child sexual exploitation investigation in Oxford.
Police officers carried out arrests on Thursday in connection with alleged sex offences against females which occurred between 2008 and 2015.
Six men were charged with the rape of a girl under 16 as well as other sexual offences, while a seventh man was charged with conspiracy to rape.
Six men - all from Oxford - will appear before Oxford magistrates.
They are: Shabir Dogar, 22; Shabaz Khan, 23; Shohab Dogar, 23; Yasin Hamid, 20; Usman Iddris, 22; and Joseph Suraina, 22.
Waqas Hussain, 24, of no fixed abode, will appear at Oxford Magistrates' Court on 4 April.
Mr Hussain has also been charged with the attempted sexual assault of a girl under 13, as have Shabir Dogar and Shohab Dogar.
The raids were part of what the police are calling Operation Nautical.
A further 10 men were also arrested on Wednesday as part of the same operation.