Horton hospital campaigners 'intimidated' researchers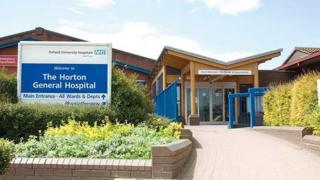 Researchers conducting surveys about changes to Oxfordshire's NHS have refused to return to a town after alleged intimidation by campaigners.
Qa Research was interviewing people in Banbury last month about plans to move services away from the town's Horton General Hospital.
The police were contacted after the firm accused protestors of being confrontational.
Campaign group Keep the Horton General denied using "heavy-handed tactics".
Oxfordshire Clinical Commissioning Group (OCCG), which is responsible for planning and commissioning local health care services, said staff from the research company had been carrying out a consultation in the town centre on 11 March.
It added that photos of the researchers had been posted on social media.
OCCG chief executive David Smith said one of the researchers claimed he had never faced intimidation like it in their 20-year career.
The health body now plans to consult people via telephone instead and to collect feedback from community groups as a result of the "clash".
'Leading questions'
Keep the Horton General campaigner Val Ingram said she spoke to the researchers because she was concerned they were misleading interviewees.
She said: "Nobody was rude to them, nobody was intimidating, we were just asking questions about what they were doing, because they were telling people they were trying to save the Horton.
"We are being portrayed as if we were thugs when we are far from that."
Banbury MP Victoria Prentis has also written to the OCCG raising concerns about "leading questions" asked by the researchers.
Health bosses have proposed moving stroke services and some critical care patients to the John Radcliffe hospital in Oxford.
The Banbury hospital has already been redesignated as a midwife-led unit because of a shortage of doctors, and the consultation suggests making the change permanent.
OCCG said the changes were needed to tackle a predicted £200m funding gap by 2020-21.