Plan for Oxford hotel near Norman tower approved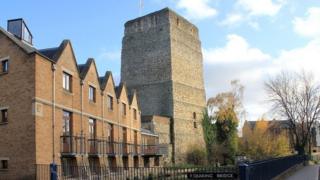 Plans to build a six-storey hotel next to an 11th Century castle tower in Oxford have been approved by the city council.
The 145-bedroom hotel will replace the Cooper Callas office building, which will be demolished.
The Oxford Preservation Trust said it was "disappointed, but not surprised" by the decision to approve the build.
It added that the approved designs were more sympathetic to the surrounding area than previous proposals.
Dominvs Group has been granted permission to build the hotel, which will include ground floor commercial areas open to the public.
Jay Ahluwalia from Dominvs Group said: "We are delighted that this proposal has been deemed acceptable in both economic and heritage terms."
The new hotel will be situated opposite the Grade I listed St George's Tower, which is one of Oxford's oldest buildings.
The tower is part of Oxford Castle Quarter which was used as a prison until 1996, when it was transformed into a hotel and visitor's attraction.
Oxford Preservation Trust president Debbie Dance said of the decision: "I'm disappointed, but not surprised. It's a bit larger than we would've liked, but we'll work with [Dominvs Group]. We'd be delighted to talk to them."
The Oxford Civic Society and a number of residents objected, but Historic England withdrew concerns when it described the plans as a "a great improvement on previous proposals".