Oxford procession in memory of bus death cyclist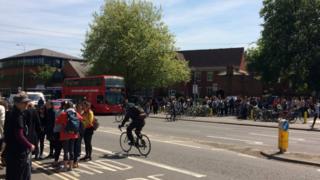 About 100 cyclists have taken part in a ride in Oxford to pay respects to a fellow cyclist who died in crash involving a bus.
Named locally as Claudia Comberti, the 31-year-old was killed near the McDonald's on the Botley Road at about 14:30 BST on Tuesday.
Earlier cyclists rode from Carfax Tower to Seacourt park and ride, wheeling an empty white bicycle in front.
Friend Sam Chappell, who painted the bike, called it "a very solemn ride".
He added: "We wanted to get down there and just be in the space where she was.
"There were so many friends that wanted to do something, we thought that was the right thing to do.
"There were huge crowds. When I looked around at one point I thought it looked like a mini-festival... it must have been quite a spectacle."
He described Ms Comberti as "unbelievably unique".
"She was one to really grab hold of everything that life threw her… it was an inspiring way to live life.
"There were dozens of people who were just there sharing the day together to help each other through."
Following the crash, Phil Southall, managing director of the Oxford Bus Company, said the bus driver was being treated for shock.
He added it was "far too early to speculate" how the accident involving the bus on the 4B route happened.