Oxford Raleigh Park rape: Mark Pearton, 44, jailed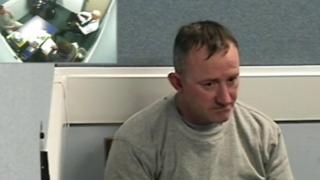 A man has been jailed for life for raping a woman in an Oxford park.
Mark Pearton, 44, of Cavendish Place, Eastbourne, attacked the 21-year-old victim on the evening of 10 January as she was walking in Harcourt Hill.
Wearing a balaclava, he approached her from behind and threatened her with a knife before raping her at Raleigh Park, Oxford Crown Court heard.
Pearton, who has served time for raping a teenager, was told he would spend at least seven-and-a-half years in jail.
In sentencing him, Judge Ian Pringle said: "I believe you're a danger to the public and there's a big risk you will commit another offence.
"You'll only be released when you're no longer a danger. That may be many, many years from now and may never occur."
Pearton pleaded guilty to one count of rape, one count of sexual assault and one count of possessing a knife.
He became a suspect after his silver Vauxhall Corsa was captured on CCTV close to the scene.
Judge Pringle told Pearton: "The victim impact statement was utterly heartrending.
"This was a promising young girl permanently scarred by what you did.
"You were not contrite from the start and the evidence was overwhelming."
Pearton was released from jail in 2015 after serving a 16-year sentence for the rape of a 13-year-old girl in Eastbourne.
Prior to that he served five years for armed robbery.
Helena Burman, senior crown prosecutor, called it a "planned, targeted and violent stranger rape committed by a man, who had only been released from prison two years earlier".
She added: "This prosecution would not have been possible without the courage of the victim... the physical and emotional impact on her of the abhorrent actions of Pearton is impossible to quantify."
Senior investigating officer Det Insp Jim Holmes said the victim had been "living a nightmare" since the rape.
He added: "This was an unusual offence because of its random nature; usually there is something linking the offender to the victim or the location of the offence but Pearton did not know the victim and had no ties to Oxford."
He said forensic traces of Pearton's DNA were found at the scene and "hours and hours of CCTV footage" were examined.
"During the search [of his home] Pearton was found to be in possession of pornography replicating scenes of rape, which was an aggravating feature in this case.
"Pearton has shown no remorse for what he has done nor has he acknowledged the impact his offences... he is an extremely dangerous sexual predator who is a threat to women."