Abingdon air show halted after crash landing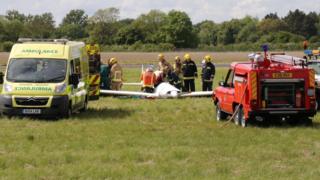 A pilot was injured when he was forced make a crash landing at an air show in Oxfordshire.
The aerobatics display aircraft came down as the pilot was taking part in the annual Abingdon Air and Country Show.
Organisers said he was conscious after a "safe crash landing" and was taken to hospital shortly after 14:30 BST. No-one on the ground was hurt.
Show-goers were told the displays would resume after safety checks.
Thames Valley Police said the pilot was the only occupant and had landed the right way up but off the runway.
The Air Accident Investigation Branch has been informed.