Didcot Power Station collapse: Work to clear site resumes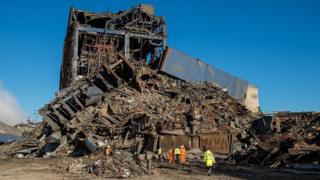 Work to finish clearing the collapsed Didcot Power Station site has resumed after a new contractor was appointed.
It comes more than a year after four men were killed when the boiler house came down on 23 February last year.
Ken Cresswell, 57, John Shaw, 61, Michael Collings, 53, and Christopher Huxtable, 34, were employed by Coleman and Company, which withdrew from its contract in September.
Now workers from contractor Brown and Mason are clearing the site.
The cause of the collapse is the subject of a joint police and Health and Safety Executive investigation.
It took more than six months for the men's bodies to be recovered from the site.
Wreckage from part of the building brought down in a controlled explosion in July still remains, and the three cooling towers and a chimney also need to be demolished.
Site owner RWE Npower said there was currently no timescale for the work's completion, but added it would take "months".
The coal-fired facility was closed in March 2013 after 43 years of operations, and the company originally planned to have the site cleared by the end of this year.
Tributes were paid to Mr Cresswell and Mr Shaw, both from Rotherham; Mr Collings, from Teesside; and Mr Huxtable, from Swansea; on the anniversary of the collapse earlier this year.