Positive Steps Nursery kitchen closed after dead mouse found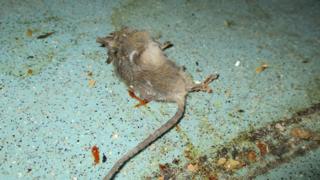 A children's nursery kitchen has been closed after a dead mouse was found by hygiene inspectors.
It was discovered at Positive Steps Nursery in Shellingford, Faringdon, Oxfordshire, on 16 May.
Rodent faeces were also found on work surfaces, the kitchen floor and in cupboards.
The nursery said its staff had been working to get the kitchen up and running again.
More on this and other stories from across the South of England
A spokesman for Vale of White Horse District Council said: "Our inspectors felt the condition of the kitchen was posing an imminent risk to the health of the children and staff at the nursery.
"Children under five years of age are particularly at risk of infection as their immune systems are not yet fully developed. We're pleased the nursery responded positively."
Vikki Skinner, divisional director at Positive Steps Nursery, said: "We have taken steps to tackle the issue since the visit, including an external contractor being brought in to help us."
The kitchen can be used again after a follow-up inspection on Friday found there was no longer a risk to health.