Oxford Valentine's Day murder: Man pleads guilty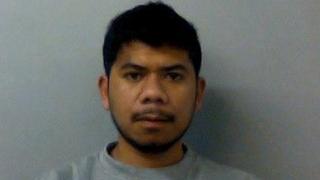 A man has admitted stabbing a father to death on Valentine's Day.
Domingos Ramalho, 35 from Oxford, was attacked with a kitchen knife on a busy street.
Egidio Da Silva Alves, 28 of The Slade, Oxford, has admitted the murder in the Headington area of the city.
Thames Valley Police said the daylight attack happened in front of "terrified" members of the public including children.
In a statement, Mr Ramalho's family described him as "kind, loving and caring" and a "trusted friend to many and a family man dedicated to his partner and children".
Police said the killer knew his victim and the two men bumped into each other in a betting shop on London Road on February 14.
After a conversation, Alves went to a hardware shop and bought a large kitchen knife before going back to the bookmakers and taking it out of its packaging in the toilets.
He then followed Mr Ramalho while making a phone call to a friend, asking him to look after his child and saying "I am going to kill him".
Moments later, he attacked his victim on Windmill Road in front of members of the public, some of whom intervened to disarm him.
He was arrested at the scene and Mr Ramalho was taken to hospital but died the following day.
Det Insp Dave Hubbard said: "This was a horrific incident and, while we would never advise that members of the public risk their own safety to intervene in such situations, they acted courageously to stop the attack, disarm Alves and provide first aid to Domingos before the emergency services arrived."
Alves appeared at Oxford Crown Court on Thursday and was remanded in custody.
He will be sentenced on 23 June.