Five accused of Blackbird Leys brawl 'murder' in court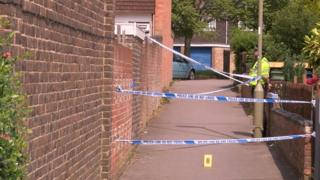 Four men and a boy have appeared in court charged with murdering a man who died after a fight in Oxford.
The brawl broke out on Thursday night in the Jourdain Road area of Blackbird Leys.
Christopher Lemonius, 27, was found at the scene with serious injuries and later died in hospital.
All five appeared at Oxford Crown Court and have been remanded in custody. They are next due to appear in court on 2 October.
All the suspects, from Oxford, are charged with murder. They are:
Yousef Koudoua, 27, of Balfour Road
Yasine Lamzini, 19, of Jourdain Road
Rashaun Stoute, 23, of Church Cowley Road
Connor Woodward, 24, of Haldene Road
A 16-year-old boy who cannot be named
A sixth man was earlier released without charge.