Remembering India's WWI soldiers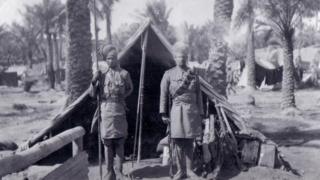 A project to highlight the role of Indian soldiers in World War One is being undertaken by Oxford University.
It is collecting stories from British Asian families ahead of an exhibition.
A total of 1.3 million Indian soldiers served in WWI and more than 74,000 died.
The university is working with The Soldiers of Oxfordshire Museum, which has released photos of Indian men who served with fighters from Oxfordshire and Buckinghamshire.
Stephen Barker, a history consultant on the project, said Indian soldiers fought and died in modern-day Iraq and are still commemorated on memorials in Basra and Baghdad.
The project is due to be launched at the museum in Woodstock on 27 June.
Contributions from volunteers will be used in the exhibition that will also visit Banbury and Wycombe.