'Racist mob' injured woman in Oxford's Florence Park at Eid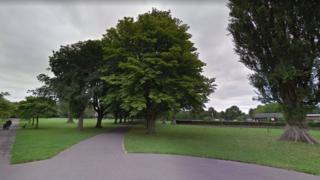 Sudanese women and children were targeted by a "racist mob" in Oxford at the start of Eid, a charity claims.
Police were called at 14:26 BST on Sunday to reports of an altercation between two groups of people in Florence Park off Cricket Road.
Thames Valley Police said "racist language" had reportedly been used. One person was taken to hospital and another was treated by paramedics.
Oxford Homeless Project said a woman was knocked unconscious in the attack.
Shabnam Sabir, from the charity, tweeted: "Sudanese women and children attacked by #racist mob in #Florence park on #Eid in Oxford! Wom[a]n unconscious but ok now!"
A witness, who did not wish to be named, told BBC News that a woman had been punched and kicked after being hit by a ball from someone in another group.
A member of the group accused of the attack, who asked not to be named, said the football hit the woman accidentally and at no time did they use or hear any racist language.
'Diverse city'
Oxford Stand Up To Racism campaign is organising a "reclaim the park" event in response.
Group co-chair Mariam Ahmed said "There is no room for hate of any kind in our diverse city.
"It is extremely upsetting to hear about this attack on innocent women and children going about their normal business.
"Our thoughts are with the victim and family and hope they can recover from this emotionally and continue with their Eid celebrations."
Anyone who witnessed the attack or with information is asked to contact Thames Valley Police.