Parking machine upgrades to cost Oxfordshire County Council £350k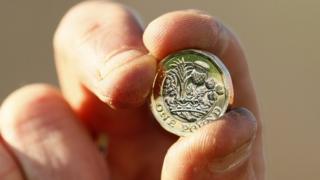 Oxfordshire County Council will have to replace almost all of its pay and display machines due to the introduction of the new pound coin.
The local authority is expecting a bill of £342,700 to install 85 new machines by the end of September, which it said would also "make parking easier".
It said the current devices were bought in 1994 and are too old to be upgraded.
Other councils in the county will collectively pay £27,875 to modify 158 existing machines.
The county's on-street parking machines are in Oxford, Abingdon, Wallingford and Henley.
'Simply too old'
A spokesman for the local authority said the current 120 machines would be reduced to 85 and drivers will be able to pay with cash or card.
He added: "The reason we couldn't make improvements to the existing machines is that they were simply too old - they were bought as refurbished units in 1994 - and needed replacing anyway.
"On-street parking is a short-term option for those needing to make quick visits, particularly to Oxford.
"There are convenient park-and-ride facilities for people wanting to spend longer in the city - using these help to reduce congestion.
"The park-and-ride machines, being newer, are not affected."