Chiltern Edge School may be saved by potential sponsor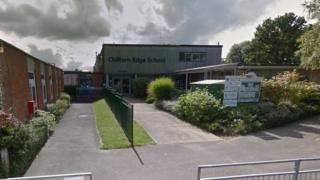 A potential sponsor has been identified for a failing school that is under threat of closure.
Chiltern Edge School in Sonning Common, Oxfordshire, could be adopted by Maiden Erlegh Trust and become an academy.
The school was rated inadequate by Ofsted, and as one of only a few council-run secondary schools in the area its closure would have a big impact on education for local pupils.
A public consultation on the school's future ends on Friday.
Maiden Erlegh Trust, which runs a school in Earley, has been named by Oxfordshire County Council as a possible sponsor to save the school, which was placed in special measures in March.
Ofsted inspectors said Chiltern Edge pupil attainment was too low and that the school had shown a lack of management and effective teaching.
'Real battle'
Parents and pupils said this was not a "true reflection" of the school and launched a Save Our Edge campaign with protests, posters and T-shirts.
The school serves part of Reading Borough Council as well as Oxfordshire and is one of three council-run secondary schools in the wider area.
Campaigning parent Charlie Holloway said: "Reading Borough Council very quickly confirmed that they didn't have enough places within their schools and so this is when the real battle began to try and keep Chiltern Edge open.
"If a car fails its MOT, you don't scrap it, you fix it."
An Oxfordshire County Council spokesman said: "The council is working to find a solution that enables the school to stay open, and which will also deliver the improvements required by Ofsted."
A report will be presented to the council's cabinet on 18 July for a decision on the school's future.