Three GPs leave 'inadequate' Horsefair Surgery in Banbury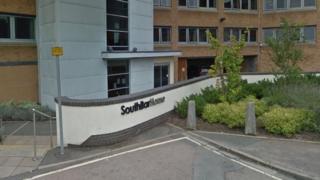 Three doctors have left their positions at a GP practice in Oxfordshire which was judged "inadequate" by regulators.
Dr Jonathan Williams, Dr Liz Dawson and Dr Angela Alcock were all partners at Horsefair Surgery in Banbury.
The practice, which has more than 16,500 patients, was deemed "inadequate" by the Care Quality Commission (CQC) in May.
Oxfordshire Clinical Commissioning Group (OCCG) said it was working with the surgery to recruit new GPs.
Horsefair Surgery has faced "significant pressure over the last two years", according to OCCG - which oversees GP services in Oxfordshire.
It said "longstanding GP partners" Dr Williams, Dr Alcock and Dr Dawson were each leaving for "personal reasons".
In a statement, Dr Liz Dawson thanked staff, colleagues, and patients for their support, and said they left with "great sadness".
A report by the CQC rated Horsefair Surgery "inadequate" after a follow up inspection in May, with particular issues around leadership and effective services, although it was found to be caring and responsive.
OCCG said it would work with the practice to make sure necessary actions are taken to ensure the surgery improves.