Cherwell Gymnastics Club 'forced to cut classes' after planning reversal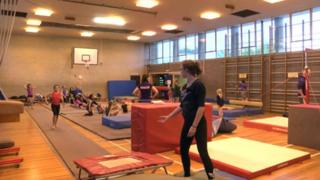 A gymnastics club has had to cut classes and sell equipment after the city council overturned its planning permission.
Cherwell Gymnastics Club moved to a warehouse in Blackbird Leys after Oxford City Council voted to approve its application in October.
However, the decision was reversed in January because the premises was registered as a "key employment site".
The club said it was now moving from the warehouse to two separate units.
Before it moved to the warehouse the club said it searched for 10 years to find bigger premises.
Oxford City Council said it was trying and find the club a new home but had not yet found anywhere suitable.
Hazel Walsh, chair of Cherwell Gymnastics Club, described the move from the warehouse as "disappointing".
"We've had to reduce down class times, we've had to reduce down equipment for gymnasts and we don't think we are going to be able to take on any new gymnasts in September," she said.
The club currently has about 700 people on its waiting list.
Mayfield Press, which is based next to the gymnastics club, had opposed the club taking over the unit.
It said it might need to leave Oxford - risking 85 jobs - unless it had the warehouse to expand into.