Hiding Iraqi refugee crushed under lorry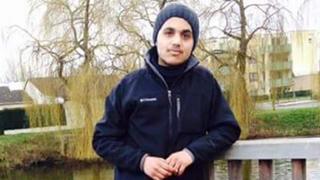 A teenage refugee from Iraq who entered the UK illegally was crushed to death under the wheels of the lorry he had been hiding in, an inquest has heard.
Mohammed Hassan, 17, died on 1 April on an industrial estate in Banbury.
Oxford Coroner's Court heard he was killed when the HGV he had been clinging to reversed over him.
Coroner, Darren Salter, said the Home Office would be contacted over concerns about how UK Border Agency dealt with Mr Hassan four days earlier in France.
Crash scene investigator Gary Baldwin said Mohammed Hassan must have "either deliberately or accidentally emerged from the axle area" as the lorry stopped in Banbury, and was run over when it started reversing.
PC Sandra Terry said the driver had gone to the wrong entrance of a factory belonging to plastic injection moulding firm Magna and was trying to correct his mistake.
Oxfordshire Coroner Darren Salter said he had switched on his hazard warning lights and did not see the teenager in his mirrors.
Mr Hassan had been detained by the UK Border Agency on 28 March when he was discovered in the back of a lorry with four other Iraqis in Dunkirk. He was handed over to French police.
Mr Salter said "These are UK agencies who are exercising jurisdiction and in this case detaining a child, an unaccompanied child.
"They have responsibilities as a result... There is a significant question about what the staff are trained to ask."
'Severe crush injuries'
Crash scene investigator Gary Baldwin told the inquest that the space on top of the lorry axle would have been a "very uncomfortable place to be" and he could not think of "a more difficult thing to do" especially given the temperature had been almost freezing.
The Romanian driver told police he heard a bump and then saw a body in front of the lorry.
"I pulled him from the ground, I didn't know what to do," he said.
Mr Salter said the teenager was pronounced dead at the scene and died from "severe crush injuries".
He had travelled from the Kurdish region of Iraq, via Greece and Germany, without telling his parents who thought he was going to Turkey.
The inquest heard how Mr Hassan told friends he wanted "a new life in the UK" and was afraid so-called Islamic State would kill his family if they stayed in Iraq.
Mr Salter said he had travelled to Dunkirk and intended to claim asylum in the UK with the hope of bringing his family over to join him.
Mr Hassan's uncle Shamal Silah said he had been "shocked" listening to the evidence and his family were still grieving the loss.
He said: "We lost one of our family, we don't want to lose any other people this way.
"There is no one looking after [the children] and helping them. No one showing them the right way."