Redevelopment for £60m Oxford shopping centre approved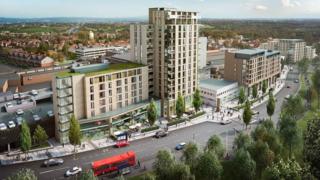 A £60m redevelopment of a 50-year-old shopping centre in Oxford has received planning permission.
NewRiver wants to build a hotel, restaurants and 226 flats at Templars Square in Cowley.
One block would be 15 storeys high and a council officer's report said the tower was the tallest "the city has considered in a long time".
But it concluded any harm to Oxford's skyline would be "less than substantial".
The report also said the investment in a "tired 1960s shopping centre" would lead to further regeneration in the area.
The proposal includes the demolition of a multi-story car park and bridge to clear space for flats, but the existing shops would remain unchanged.
A 71-bed Travelodge would occupy the 15 storey tower, which would also have 69 flats.
Of the 226 flats in the development, 23% would be affordable, falling short of Oxford City Council's policy.
But the report said information submitted by developers demonstrated the scheme would not be viable with a higher proportion.
It added officers were "satisfied that this evidence was robust".
James Whitfield, director of commercial development at NewRiver, said the company had worked with the local community while developing the proposals.
He added that the company was committed to working with local people to "mitigate any disruption caused" during construction.