Wind in the Willows murder case a 'vicious' attack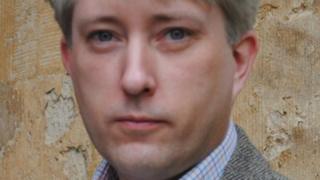 A man who murdered a book dealer over a £50,000 first edition of The Wind in the Willows showed a "level of viciousness", a detective has said.
Michael Danaher, 51, stabbed Adrian Greenwood to death in Oxford and was jailed for 34 years in October 2016.
The murderer took a selfie after stabbing Greenwood 16 times. Det Insp Stuart Blaik said this showed his "viciousness" and was "vital" evidence.
Police revealed details for a Channel 4 documentary to be shown on Monday.
Mr Greenwood, 42, was found dead with chest and neck stab wounds at his home in Oxford in April last year.
Speaking to the BBC, Det Insp Blaik, said police concluded "quite quickly" Danaher had carried out the murder but spent four days building their case before arresting him.
"Everybody was working 15-20 hours a day, so there was a lot of work within that period of time," the detective said.
Police said Danaher targeted Mr Greenwood after meeting him at an auction and discovering he had a 1908 first edition of The Wind in the Willows worth an estimated £50,000.
At Danaher's trial, the prosecution said the rare copy of the book was found at the murderer's flat, and had been put up for sale on eBay.
The court also heard how Danaher had stopped outside Mr Greenwood's house and took a selfie after the murder.
Det Insp Blaik said: "I can't account for that, I don't know what was going through Danaher's mind to take a selfie after what had just happened.
"It just shows the level of viciousness... and again a vital bit of evidence."
The TV documentary includes interviews with Danaher's wife Elaine and his son, who said his father was motivated by "money" and "greed".
Catching a Killer: The Wind in the Willows Murder will be shown on Channel 4 at 21:00 BST.