Regulator examines Oxford University Hospitals' finances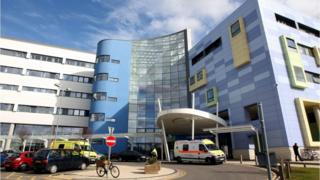 Finances at a leading NHS trust which runs four hospitals in Oxfordshire are being investigated by a regulator
NHS Improvement said Oxford University Hospitals NHS Foundation Trust's (OUH) "deteriorating financial performance" between January and March had prompted the move.
OUH ended the 2016-17 financial year £31.9m behind its budget plan, although it still recorded a £1m surplus.
The trust said it had been notified of the investigation and awaited details.
A report by OUH board said the trust had spent £5.6m more on pay and £19m more on supplies, running costs and other non-pay expenditure than planned in 2016-17.
The trust is also behind on its financial plan for the current financial year, recording a £1m deficit for April and May.
A report to be discussed by the trust's board this week, described it as a "completely unsustainable" financial performance.
'Deeply worrying'
NHS Improvement said its investigation would determine whether the trust needed support to return to a sustainable position.
Layla Moran, Liberal Democrat MP for Oxford West and Abingdon, said it was "deeply worrying" and a "reflection of wider funding issues in the NHS".
Executive director of Healthwatch Oxfordshire, Rosalind Pearce, wanted patients to be at the "forefront" of any recommendations, and was concerned that frontline care should not be affected.
OUH said it was notified of the investigation by NHS Improvement on 31 May and was awaiting details.
The trust is one of the largest teaching trusts in the UK and describes itself as a "world-renowned centre for clinical excellence".
NHS Improvement has the power to place trusts into financial special measures if it is concerned about their finances.
Nine hospital trusts in England are currently in financial special measures.