Dennis Healey's archive acquired for the nation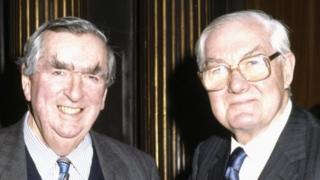 Diaries and letters written by Labour politician Denis Healey have been acquired by the Bodleian Libraries in Oxford.
Lord Healey served as secretary of state for defence and Chancellor of the Exchequer in the 1960s and 1970s.
He was student at Balliol College at Oxford, where he was involved in the Labour and Communist parties.
Arts Council England said the collection was "extensive" and was not ready to go on display yet.
The diaries date from the 1930s until 2015, the year of Lord Healey's death.
He served as an MP from 1952 until 1992, and was previously the international secretary of the Labour Party.
The collection includes:
An account of his visit to Nazi Germany in 1936
Correspondence with Labour party figures such as Clement Attlee, Tony Benn, and Jim Callaghan
Correspondence with Lord Mountbatten
Speech drafts and notes from Cabinet meetings when he served in Harold Wilson's government
Photographic prints and slides taken by Healey himself
The archive was acquired for the nation and allocated under the government's acceptance in lieu scheme, which accepts cultural artefacts in place of tax.
Edward Harley, chairman of the acceptance in lieu panel, said the collection was a "fascinating insight into the personality and enthusiasms of a political figure known for his breadth of interests".
He added: "I am confident that this archive will prove of great interest to scholars of 20th Century politics."
John Glen, minister for arts, heritage and tourism, said: "This rare collection gives a unique insight into one of Britain's most prominent 20th Century politicians."
Chris Fletcher, keeper of special collections at the Bodleian Libraries, said: "It's particularly appropriate that it will be kept in Oxford where he began his political career.
"We are very grateful to Healey's family and to the acceptance in lieu scheme for this excellent outcome."