'Concerning' nurse shortage at Oxford University Hospitals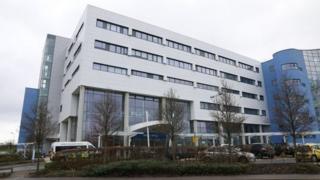 The number of vacancies for nurses at an NHS trust in Oxfordshire has reached "concerning levels".
Oxford University Hospitals NHS Foundation Trust (OUH) had 560 unfilled posts at the end of June.
Its interim chief nurse, Andrew MacCallum, said recruitment from the EU was harder following Brexit and the introduction of a new language test.
He added it was an issue "across the NHS" and warned there were no "quick fixes".
'Extremely challenging'
Last year, a report by the Institute for Employment Studies said one in 10 nurse posts in England were unfilled, and warned a shortage of nurses in the UK would continue for years.
Mr MacCallum said "supply to the workforce" had never been at such critical levels in his time at nursing.
David Bailey, a nurse at the John Radcliffe Hospital in Oxford, described the situation as "extremely challenging".
He said nurses in Oxford did not get the London weighting, which means their colleagues in the capital are paid more.
In February, a report by Lloyds Bank ranked Oxford as the least affordable city in the UK.
Mr Bailey said he believed pay, and the high cost of living in Oxford, were reasons for the shortage.
The BBC has approached the Department of Health for comment.