Bid to create River Thames nature reserve in Oxfordshire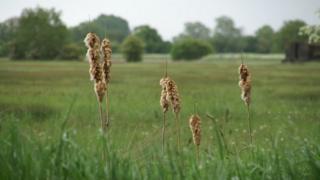 A wildlife trust wants to raise £220,000 to buy farmland and create the first nature reserve to cover both sides of the Thames.
The Berks, Bucks & Oxon Wildlife Trust (BBOWT) is targeting an area at Duxford Old River across the river from its Chimney Meadows reserve in Oxfordshire.
The result would be one of the largest nature reserves in the county.
Neil Clennell, from the trust, called the land a "vast blank canvas with so much potential for wildlife".
The aim is to incorporate the new 113-acre site into the Chimney Meadows nature reserve, which is more than 600 acres in size.
Mr Clennell added: "In so many places wildlife is being squeezed out of its natural habitats where it used to flourish.
"Here the peaceful meanders of the old river are natural playgrounds for otters and water voles, and the reeds are full of dragonflies and damselflies.
"If the trust's appeal is successful we'll let Mother Nature take the lead, with just a little bit of help from us to get things going."
Safe havens
The trust's ecologist has recorded 45 species of bird on the Duxford Old River land.
BBOWT plans to let the Thames flood onto the land, creating ponds and pools attractive to curlew, lapwing, snipe and teal.
"Backwaters and a fish pass will give safe havens for fish to spawn and insects to thrive, providing more food for bats and birds", it said.
The land currently has no formal protection for wildlife.