Minister to rule on bus ban for Queen Street in Oxford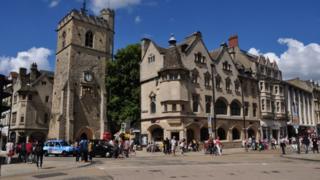 The decision on whether a major street in Oxford remains closed to buses and taxis will be made by the Secretary of State for Transport.
Oxfordshire County Council approved a further closure on Tuesday following concerns about safety once a new shopping centre opens.
Oxford Bus Company said the closure would lead to congestion and pollution.
The matter will be referred to Transport Secretary Chris Grayling after Stagecoach also objected.
Queen Street is already permanently closed to private cars, and buses and taxis are currently barred following an earlier temporary ban.
The latest decision from the county council would see a further ban lasting 18 months imposed.
A ban on cycling through Queen Street between 10am and 6pm would also remain.
'Unnecessary miles'
Oxfordshire County Council officers said a "substantial increase" in pedestrian numbers was expected from new developments including the Westgate shopping centre, which has an entrance on to Queen Street, and opens in October.
A report said officers were "concerned" about pedestrian safety should buses be allowed to use the route.
Managing director of Oxford Bus Company, Phil Southall, said the proposed ban would have a "long-term negative effect" on Oxford.
He added buses would have to travel 149,000 "unnecessary miles" per year to avoid using Queen Street.
Businesses in the city centre have also expressed worries about traffic problems becoming worse elsewhere because of the closure.
Queen Street was made pedestrian only between June and November 2016 during the redevelopment of the Westgate shopping centre.
In December, Oxfordshire County Council agreed to a further ban whilst council officers developed a proposal which addressed concerns about the impact on nearby roads.
The latest ban would take effect in October, if approved by the Secretary of State for Transport.