Bicester's level crossing may shut for 34 minutes an hour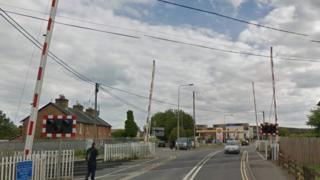 Barriers at a level crossing could be down for the majority of every hour if a major rail project goes ahead.
The stoppages at the London Road crossing in Bicester, Oxfordshire, which links the south-east of the town to the centre, could increase from 14 to 34 minutes an hour.
The changes come into force once phase two of East West Rail is built.
Oxfordshire County Council leader Ian Hudspeth said the authority was "lobbying for a solution".
The second phase of East West Rail is set to connect Bicester to Milton Keynes and Bedford and is due to open in the early-2020s.
'Bane of my life'
The possibility of building a tunnel or a bridge at the crossing has been examined but a report by officers at Oxfordshire County Council said it would be "extremely costly" and no funding has been found.
The practicalities for how to deal with the extra trains, including how often to lower level crossing barriers, have been decided by a consortium of affected councils - including Oxfordshire County Council - along with the Department for Transport and Network Rail.
Lawrie Stratford, a councillor for Bicester North, said at a meeting on the issue on Tuesday that he feared Bicester would become a "dead town" if it was not sorted out.
Taxi driver Jaffa Hassan said the crossing was already a major problem without the extra trains.
He added: "It's the bane of my life... basically in order not to upset the passengers I tend to stop my meter so they don't lose out. But I lose out."
While Oxfordshire County Council has pledged its support, Mr Hudspeth said the issue could not be ignored and he would "make sure" a solution was found.