New tests carried out on Oxford towers' failed cladding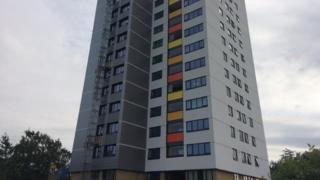 Cladding which failed fire safety tests on two tower blocks in Oxford may not be removed as planned.
Further tests have been carried out on Windrush and Evenlode towers in Blackbird Leys following new government advice.
The guidance said cladding could be safe if the entire wall met standards, even if some of the materials in its construction did not.
Oxford City Council said it would await the results before making a decision.
It had announced cladding would be removed after failing tests on 26 June.
However, the Department of Communities and Local Government said only the core or filler from sample panels had been examined.
'Among safest in country'
It suggested external walls, which used cladding made of combustible materials, could still meet building regulations if the entire wall passed fire resistance tests and said an expert panel was looking into this.
The council said should the cladding need to be removed, it could be "some months" before work starts.
Leader Bob Price said: "We are continuing to put in place all the necessary arrangements to minimise the period of delay before work could be undertaken."
He added the authority would seek to recover any replacement costs from the government.
Cladding on at least 259 high-rise buildings in the UK has failed fire safety tests in the wake of the Grenfell tower fire.
Oxford Council and Oxfordshire's chief fire officer have described Windrush and Evenlode, which have sprinkler systems fitted, as being among the safest tower blocks in the country.