Downton Abbey's 'cottage hospital' roof restored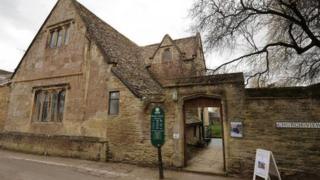 The roof of a 17th Century building used as the cottage hospital in Downton Abbey has been restored after a "miraculous" fundraising effort.
The Old Grammar School in Bampton, Oxfordshire, is a tourist magnet thanks to the hit TV series, but was in urgent need of repair.
Campaigners and several actors from the show, including Hugh Bonneville, raised £125,000 to complete the works.
Bampton Community Archive said it was "extremely happy" with the end result.
Chairman Robin Shuckburgh said: "The enthusiasm and professionalism with which the archive, its volunteers and its committee members have gone about the huge task of raising the money for this project has been nothing short of miraculous.
"Seeing the beautiful result of the restoration carried out by the Bicester Roofing Company is a great reward for their efforts."
"If the roof falls in on this place we don't have anywhere to film," Bonneville had joked during the time he made a film for the campaign.
Fundraising will continue to help restore the inside of the building too, with hopes the former school might house a Downton Abbey museum in future.
It is situated close to St Mary's Church, which has been the stage for several dramatic scenes in the TV show.
Downton Abbey ended at Christmas 2015 after six series. A feature film version is expected to begin production in 2018.
Mr Shuckburgh said he hoped the rest of the project would be complete in time for filming.
"It's extremely likely it'll be on the big screen," he added.