Oxford City Council threatens homeless with £2.5k fine over bags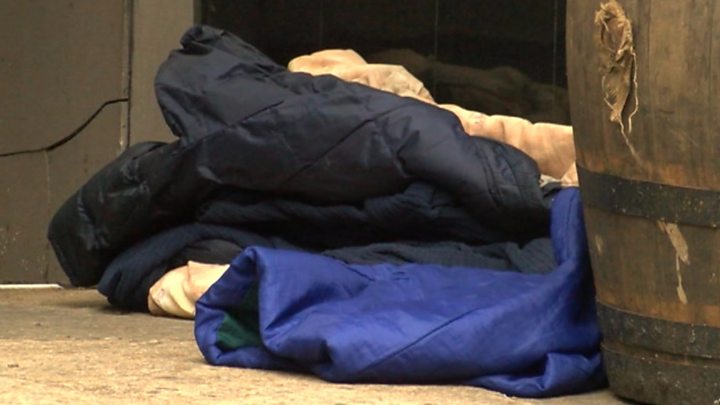 Homeless people who keep possessions in doorways in Oxford have been warned they face fines of up to £2,500.
Notices have been attached to piles of bags in Oxford city centre which belong to people sleeping rough.
Green Party councillor David Thomas said it was an "outrageous" bid to "intimidate" the homeless.
Oxford City Council said the abandoned bags posed a hazard by blocking fire exits and lockers were available to those who sought help.
The notices issued by the authority said prosecution could follow if the items were not removed.
More on this and other stories from across the South of England
Neo, who sleeps rough in Oxford, said he had his possessions confiscated by the council.
"Most of the stuff which was taken was stuff that the public donated... it's a shame," he said, adding he now carries his possessions around in a trolley.
Oxford City Council said those issued with notices had two days to collect their belongings, and everything was taken by the owners except "a soiled duvet and pieces of cardboard" which were removed.
The local authority also said homeless people who engage with aid services could access lockers to store their belongings.
However, Ashley, another homeless man from Oxford, said the lockers were not big enough.
"What Oxford needs is a just a space for stuff to be stored" he said.