Ringleader of 10-man drug gang told to pay back £1m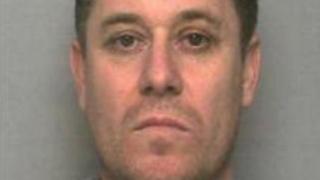 The ringleader of a gang that supplied cocaine, cannabis, amphetamine and MDMA across the south of England has been ordered to pay £1m by a court.
The confiscation order was made against Neil Wadley, 49, of Pound Lane, Upton, Didcot, who was sentenced to 17 years in prison last year.
Drugs worth £1.3m were seized by police after an 18-month investigation resulted in 10 men being jailed.
They gang operated in Somerset, Swindon, Oxford, Reading and Didcot.
Wadley, who was based in Oxfordshire, fled to Spain in January 2015 after police found a large amount of cocaine during a raid in Newbury.
He was arrested with the help of Spanish police and later admitted conspiracies to supply cocaine, cannabis, amphetamine and MDMA at Oxford Crown Court.
Detective Inspector Gavin Tyrrell said: "The defendant had clearly benefited as a result of his criminal lifestyle during this conspiracy to supply controlled drugs.
"Cash is the lifeblood of crime and cutting off supply not only removes the profits from crime but also stop the reinvestment into criminal enterprises."
During the investigation officers seized 9kg of cocaine, 1kg of MDMA powder, nearly 5,000 MDMA tablets, 4kg of amphetamine powder, 3kg of methoxetamine and 18kg of cannabis resin.
Organised crime groups in Spain, Liverpool, Hertfordshire, Norfolk, London, Reading and Southend-on-sea supplied the drugs, which were then stored in Didcot, Newbury, Reading and Hemel Hempstead.