Oxford flood relief channel plan £4m short of target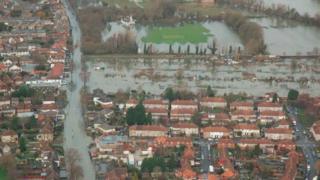 A planned flood relief channel designed to protect 1,800 homes in Oxford is £4m short of its funding target.
The channel would cost £120m and run from north of Botley Road to Munday's Bridge, Kennington.
It was proposed after flooding caused widespread disruption in February 2014, with homes and major city routes cut off for days.
The Environment Agency said the scheme will not go ahead if the remaining funding cannot be secured by November.
An agency spokesperson said: "The detailed review and approval process that a scheme of this size and cost has to go through means that if the funding isn't fully in place, it will not be approved.
"Stopping the project at this stage could also risk other funding that has been committed based on the timetable of the scheme being built by 2021."
The scheme would work by diverting floodwater across the open flood plain and away from properties that are currently at risk of flooding.
The project has also had input from Oxfordshire County Council, Oxford City Council, Vale of White Horse District Council, Thames Water and the Oxford Flood Alliance.
It currently has funding from central government, the Oxfordshire Local Enterprise Partnership, Thames Regional Flood and Coastal Committee, and local councils.
The Environment Agency spokesperson added that the agency was talking to "beneficiaries of the scheme, including retail, hospitality and transport businesses" about securing the remaining money.
It is hoped work will begin in spring 2018, with construction expected to take up to four years.