Cladding on two towers in Oxford to be removed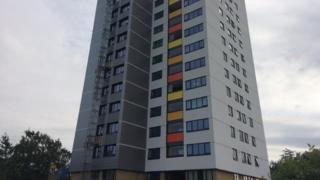 Cladding on two tower blocks in Oxford will be replaced after samples failed the government's latest fire tests.
Oxford City Council first said cladding on Evenlode and Windrush towers would be replaced after tests in June, but then chose to wait for the results of the latest checks.
It has now confirmed the cladding will be changed after samples sent failed.
Oxfordshire's chief fire officer, Simon Furlong, said residents were safe to stay in the flats during the work.
Council leader, Bob Price, said the cladding already on the buildings was "consistent with building regulations" but the government's requirements had changed following the Grenfell Tower fire.
He wants the government to pay for the replacement, and said the council would apply pressure for that to happen.
Preparations to start replacing cladding are in the final stages, the council said.
Mr Price believes it could take a "maximum" of six months but added exact time scales would depend on demand for aluminium cladding.
Both Windrush and Evenlode towers have been assessed by Oxfordshire Fire and Rescue Service and have sprinkler systems fitted.