Wallaby on the loose spotted by binman near Henley-on-Thames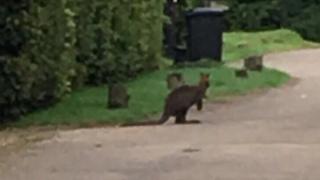 A wallaby has been spotted hopping around part of Oxfordshire by a binman on a collection round.
The marsupial was seen earlier in Shepherd's Green village near Henley-on-Thames.
"A crewman managed to get one picture before the animal bounded off into some bushes," a spokesperson from the waste company Biffa said.
The RSPCA is investigating whether any further sightings have been reported in the area.
---
Wallabies: Fast Facts
Wallabies belong to the kangaroo family and are naturally found in Australia and Papua New Guinea
In the UK they have been found living in colonies on the Isle of Man and on an island in Loch Lomond, Scotland
There have also been occasional, isolated sightings of wallabies in Ashdown Forest, Norfolk, Buckinghamshire, Oxfordshire and the Peak District
Worldwide there are 45 species of kangaroos and wallabies
They mainly eat grass but some species also consume leaves, herbs, ferns, fruit and flowering plants
Source: The Office of Environment & Heritage in New South Wales and Ordnance Survey
---
Beale Park is a wildlife attraction based about 10 miles (16km) away in Berkshire and keeps wallabies but it said none of its animals had escaped.
BBC Oxford understands a man in the area keeps wallabies privately and they sometimes run off, resulting in occasional sightings.
In 2004 Tiggywinkles Wildlife Hospital said accounts of wallabies living wild in Buckinghamshire and Oxfordshire had increased.
At the time it was thought the animals had escaped from country estates or wildlife parks in the area.
Commenting on social media about the most recent sighting, one poster called Christine Atkinson, said she had previously seen a wallaby in the nearby village of Nettlebed.