Petition against closure of Oxford's The Cellar music venue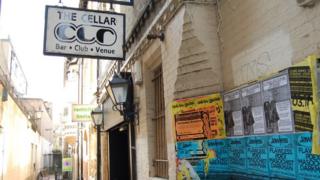 Thousands of people have signed a petition against the closure of a music venue in the centre of Oxford.
The Cellar lies underneath the Lush cosmetics shop on Cornmarket Street.
St Michael's and All Saints' Charities, the landlord for both, has submitted an application to redevelop them.
The venue described it as "devastating news" for the Oxford music scene and said it "represents the continued erosion of independent music venues by big business".
The Cellar features local and touring bands on its stage and showcased early gigs for Foals and Glass Animals.
Previously known as The Corn Dolly and The Dolly, it has been run by the Hopkins family since the 1980s.
The petition reads: "We can't let this happen. The Cellar is the heart of this city's incredible music scene."
In a statement the venue said: "We are sorry to announce that The Cellar has received notice from our head landlord that they are looking to redevelop the site.
"We are consulting a solicitor to see what our options are... we appreciate your ongoing support."
Ronan Munro, editor of local music magazine Nightshift, said: "The Cellar is a launch pad for every new generation of bands.
"The venue remains a massively supportive place for young musicians to learn their trade and maybe go on and become the next big name we can be proud of.
"The Cellar is integral to the history of Oxford, but equally so to its future and to lose it would diminish Oxford's culture immensely."
James Cunning, from Oxford band Be Good, said: "This venue is so important for promoters, bands old and young alike, and the many culturally and musically diverse club nights it hosts."
Lush is expected to relocate to the redeveloped Westgate centre.
Rupert Sheppard, clerk of St Michael's and All Saints' Charities, said the organisation wanted to increase its income in order to provide more grants to local good causes.
He said: "The trustees have no wish to cause unnecessary upset to those who value The Cellar, but it will be appreciated that they are under obligations to act in the best interests of the charities and their beneficiaries."