Ceremonial sword discovered in street in Oxford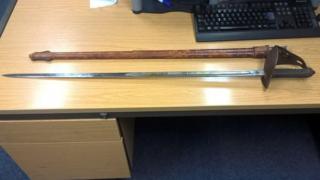 A ceremonial sword has been discovered in a street in Oxford.
It has several inscriptions including "From his affectionate friends Ida and Tom Downing", "B G Baley April 7th 1915" and "Royal Engineers".
It was found by a member of the public who handed it in to a police station in the city centre on Sunday.
Thames Valley Police said anyone wishing to claim the sword should bring proof of ownership to the front counter of St Adates police station.