Oxford councillors back The Cellar against closure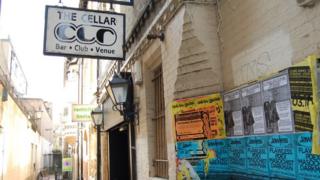 Plans to close a music venue in the centre of Oxford should be thrown out, city politicians have said.
The landlord of The Cellar, St Michael's and All Saints' Charities, has submitted an application to redevelop it into shops.
The organisation said doing so could increase the amount it donates to good causes.
Labour councillors Dan Iley-Williamson and Alex Hollingsworth said the venue was too important to close.
More than 10,000 people have signed a petition to keep the venue open, with Oxford bands such as Foals, Ride and Glass Animals also sending messages of support.
Mr Iley-Williamson called it a "vital part of the cultural fabric of the whole city".
"As well as a place for people of all ages from all over the city to go for a good night out, small venues are where new artists can learn and develop," he said.
"Without places like The Cellar the life blood of the music scene in Oxford gets cut off."
Mr Hollingsworth said it was a "key part of the cultural tapestry of Oxford".
He added: "I'll be putting the strongest possible case that this application can and should be refused."
'No unnecessary upset'
Mark Davyd, CEO of the Music Venue Trust, appealed to the charity to "withdraw their application and work with The Cellar to develop a proposal that protects this important venue".
He said: "Converting a fantastic cultural asset like The Cellar into a retail space quite obviously flies in the face of that, as well as the needs of local people."
Lush, the shop above The Cellar, is expected to relocate to the redeveloped Westgate centre.
Rupert Sheppard, clerk for the charity, said it provides "support for a variety of purposes", and the number of grant applications it receives is rising.
"Most of their income is distributed by way of grants to charities... supporting the most vulnerable and needy members of society," he said.
"[The plan is] to carry out much needed alterations and improvements to 51 Cornmarket Street after Lush vacates early next year.
"Naturally, the trustees have no wish to cause unnecessary upset to those who value the Cellar but it will be appreciated that they are under obligations to act in the best interests of the charities."