Steeple Aston rubber duck protest road resurfaced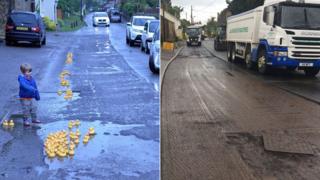 Potholes have been repaired on a village road where residents used more than 100 rubber ducks to protest against its poor condition.
Villagers in Steeple Aston, Oxfordshire, placed a flotilla of the bath-time toys in rain-filled holes in the road to highlight the issue in May.
They had accused officials of "ducking the issue", but are no longer spitting feathers.
Oxfordshire County Council said it was glad residents were pleased.
Parish councillor Martin Lipson donated the ducks, which had previously been used in a charity event, to produce the colourful scenes outside the Old White Lion pub, on South Side.
Councillor Helen Wright, who helped set up the original protest, believed it helped to move things along.
She added: "We're delighted the ducks made enough noise to get the council's attention, and are really pleased the road is being fixed."
The county council said it was carrying out "patching work which has involved planing off the surface and laying new bitumen".
It added: "Doing the work has proved to be challenging due to the fact the road is on a bus route and we wanted to continue to allow access through the village while the work was being done.
"Arranging the necessary road closure takes some time, but we are glad that we are now at the stage where the work is being done and the residents are pleased."