Afghan helicopter crash: Balloon at site 'a hazard'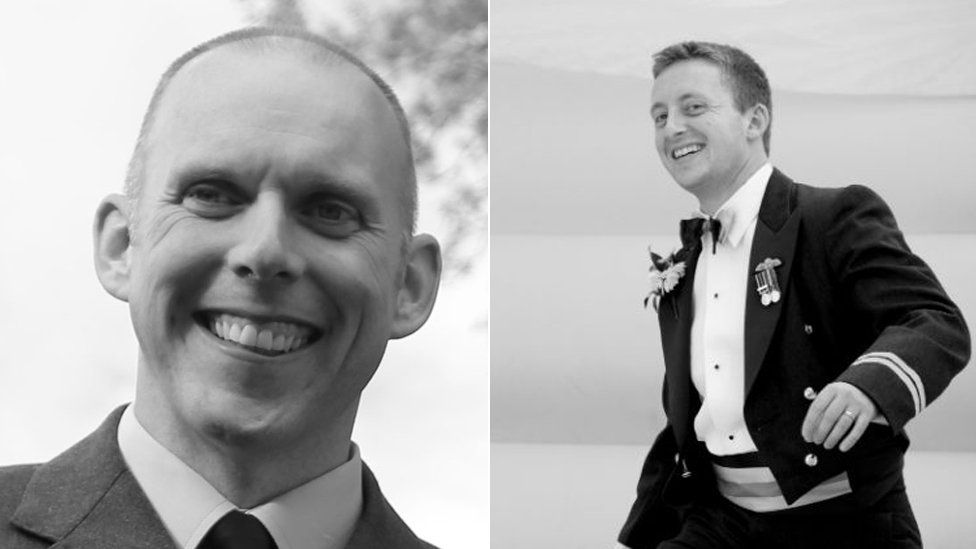 An observation balloon near where an RAF helicopter crashed in Afghanistan was a hazard but had been risk assessed, an inquest heard.
Welsh-born Flt Lt Geraint Roberts, 44, from Reading, and Flt Lt Alan Scott, 33, from Wallingford, were part of a Puma helicopter force based at RAF Benson in Oxfordshire.
They died in 2015 while trying to land at Nato's headquarters in Kabul.
The risk of the balloon to flying was said to be "understood and mitigated".
French contractor Gordon Emin, 44, and two US military personnel also died in the crash on 11 October.
Four others on board were injured when the helicopter struck the cable of the balloon after attempting to land on an Afghan football pitch.
Details of the balloon, known as a Persistent Threat Detection System (PTDS), were heard at Oxford Coroner's Court.
Air Commodore David Cooper, deputy commander of Nato Air Command in Afghanistan at the time, saw the crash from a cafe at the base.
He described the PTDS as a "hazard that would introduce a risk" but said assessments were carried out by groups including the mission's rotary wing.
He said: "They came back to us and said 'we are relatively comfortable that risk is understood and mitigated'.
"At that point I believed they had done their own due diligence.
"They were of the view that the PTDS would not stop operations, it was an additional hazard."
He added: "There were very limited options where realistically [the PTDS] could go... if they placed it at the Canadian embassy it would have been too restrictive.
"The preferred site was the one that was chosen."
There was a no-fly zone surrounding the balloon launch site of about 1,200ft (370m), the inquest heard.
The football pitch was being used as a busy landing zone but occasionally had people playing on it.
Mr Cooper said: "We were there as guests for all intents and purposes but we absolutely relied on the soccer field to move personnel."
The inquest is expected to last until Thursday.
Related Internet Links
The BBC is not responsible for the content of external sites.