Afghan helicopter crash: Landing site management 'unsatisfactory'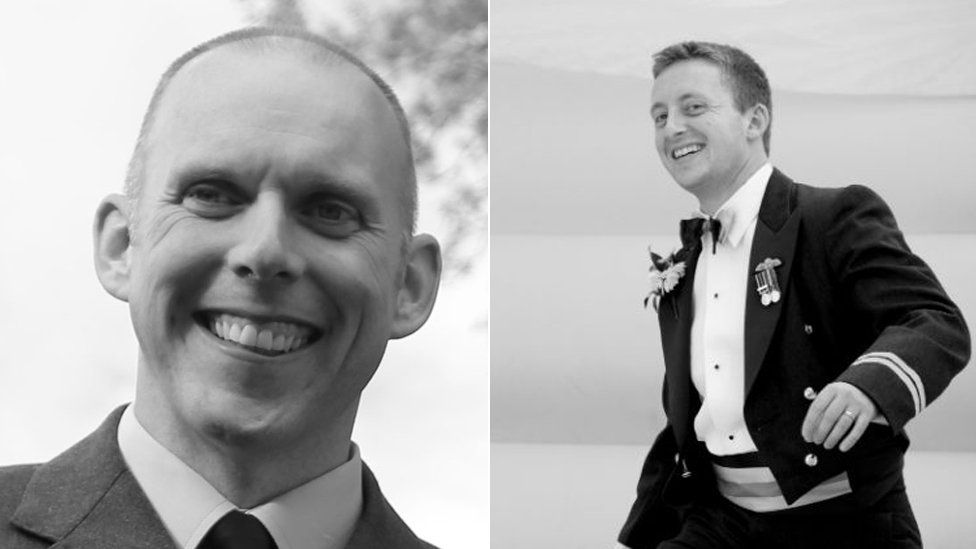 An "unsatisfactory" management system at a landing site contributed to a helicopter crash in Afghanistan that killed two airmen, a coroner has said.
Welsh-born Flt Lt Geraint Roberts, 44, from Reading, and Flt Lt Alan Scott, 33, from Wallingford, died when their Puma helicopter hit an observation balloon cable.
The accident happened in 2015 at Nato's headquarters in Kabul.
Oxfordshire Coroner Darren Salter said their deaths were accidental.
French contractor Gordon Emin, 44, and two US military personnel also died in the crash on 11 October.
Four others on board were injured when the helicopter struck the cable of the balloon after attempting to land on a football pitch.
The aircraft was forced to overshoot the landing site because it was being used by people playing football.
In his narrative verdict, Mr Salter said: "The deaths were caused accidently but were contributed to by the fact that the [balloon] was sited in close proximity to the [landing site].
"There was an unsatisfactory system of management at the [landing site] with regard to radio communications and clearance of the [landing site].
"[This resulted] in the need to go around or overshoot which increased the risk of a tether strike given its proximity."
Mr Emin's sister Cath said the inquest had gone "some way" to answering her questions, and added that her family was planning to sue the Ministry of Defence (MoD).
She said: "Gordon was an exceptional, loving and caring man, and we will ensure his memory lives on through his two young children."
An MoD spokesman said it would consider the coroner's findings "in order to ensure that such tragic events do not happen again in the future".
Related Internet Links
The BBC is not responsible for the content of external sites.