Cherwell council will tell BT to tidy phone boxes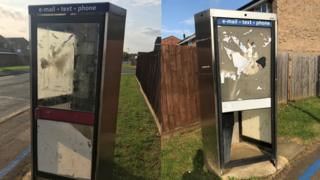 BT will be told to tidy phone boxes after it admitted it was not checking them as often.
Cherwell District Council unanimously approved a motion to request the company cleans up phone boxes in the north Oxfordshire area.
Councillor Sean Gaul said many of the district's kiosks were a "magnet for vandalism" and in a "very poor condition".
BT said it will respond to any contact it receives from the council.
Cherwell District Council leader Barry Wood, who seconded the motion proposed by Mr Gaul, said they did not want "scrappy" phone boxes littering the district and being used as "latrines or worse".
BT said phone box use had declined by "more than 90% in the last decade" which meant it did not visit them as often as it used to.
"We're just as frustrated as members of the public when our kiosks are vandalised", a BT spokesperson added.