Aung San Suu Kyi common room 'unnamed' by Oxford students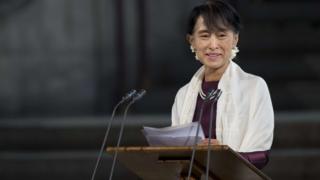 Students at the Oxford college where Aung San Suu Kyi studied have voted to remove her name from its junior common room.
The JCR Committee at St Hugh's College said the de-facto leader of Myanmar's response to reports of ethnic cleansing of Rohingya Muslims was "inexcusable".
The college earlier removed a portrait of the Nobel Peace Prize winner.
Councils in Oxford and London are also seeking to strip her of the honorary freedoms of both cities.
Tens of thousands of Muslims have fled their homes amid widespread reports of killing and sexual violence in the north of Myanmar.
In its motion the St Hugh's JCR Committee said its junior common room would be "unnamed" with immediate effect.
It said: "We must condemn Aung San Suu Kyi's silence and complicity on this issue and her condonation of the human rights offences is her own land.
"In doing so, she has gone against the very principles and ideals she had once righteously promoted."
Ms Suu Kyi graduated from St Hugh's College in 1967 and was granted an honorary doctorate from the university in 2012.
She spent years under house arrest in Rangoon as a campaigner for democracy while Myanmar (formerly Burma) was ruled by a military dictatorship.
She became a worldwide figurehead for freedom before leading her National League for Democracy party to victory in open elections in November 2015.
But her failure to denounce the military or address allegations of ethnic cleansing has been criticised by world leaders and human rights groups.
The trouble erupted in August when Rohingya militants attacked security posts, triggering a military crackdown.