Oxford hospitals' £14.7m pipeline wins award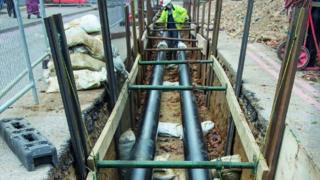 A 14.7m underground pipeline that transfers heat and energy between two hospitals in Oxford has won an award.
The link connects the city's John Radcliffe and Churchill hospitals and health bosses estimate it will save about £460,000 each year on bills.
Building work finished in May after delays caused when contractors started work without the right permission.
It won Sustainability Project of the Year from the Institute of Healthcare Engineering and Estate Management.
Claire Hennessy, head of operational estates at Oxford University Hospitals NHS Foundation Trust (OUH), said the project had been completed without any impact on patient care.
OUH said it will pay for the project over 25 years with money from the annual savings, and said the contractor, Vital Energi, would reimburse if the savings did not amount to £460,000.
The 1.6-mile (2.2km) pipe was laid under several roads in Headington, Oxford.