Plans for £18.8m Wantage leisure centre move forward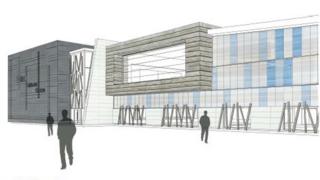 Plans for a multi-million pound leisure centre in Oxfordshire will be submitted early next year after the proposals received public support.
It would be built in Wantage at Mably Way to help meet demand as more homes are created in the area.
The £18.8m project will be paid for by Vale of White Horse District Council, which is aiming to open it in 2020.
The authority said their plans were moving forward after "strong backing" in a public consultation.
Preliminary designs for the centre include a swimming pool, cafe, gym, exercise studios and a sports hall.
More than 600 people responded to the survey, with 84% supporting the building of a new centre and 70% agreeing it was the right location.
About 20,500 new homes are due to be built in the Vale of White Horse district by 2031.
Charlotte Dickson, cabinet member for leisure at the council, said the new centre would ensure they had the facilities "to meet demand as and when it increases".