HMP Huntercombe: Lack of support for foreign convicts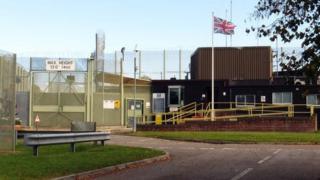 Concern has been raised about a lack of support for foreign prisoners who are repatriated to their home countries from a jail in Oxfordshire.
A report by HMP Huntercombe's Independent Monitoring Board (IMB) said prisoners had been sent home with "no assistance".
It comes after a Lithuanian inmate took his own life at the jail last year.
An investigation said Darius Lasinskas was "concerned" about repatriation but his actions were not predictable.
The IMB said it was aware of situations where prisoners had been unable to travel beyond their point of arrival in their home district because they had no support.
In one instance a Lithuanian prisoner was deported in winter without appropriate winter clothes, the report said.
It found the budget for resettlement was minimal and said the lack of support was a "major area of unfairness" between the way UK national prisoners and foreign prisoners were treated.
Mr Lasinskas, who was 26, was found dead in his cell on 28 April 2016.
It was the first time a prisoner had died in custody at the jail near Henley-on-Thames in its 70-year history.
An independent investigation said Mr Lasinskas was "evidently concerned" about being repatriated, and feared for his safety in a Lithuanian prison, but it did not consider staff could reasonably have prevented his death.
Despite describing resettlement as a "major area of concern", the IMB report said the prison was "safe" and "well run" overall.
A spokesperson for the prison service said it welcomed the independent report and would look at the board's findings carefully."