Investor pulls plug on Banbury leisure complex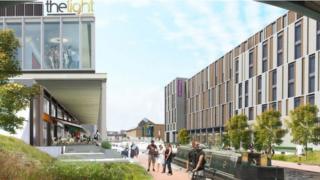 An investment fund has pulled out of plans for a multimillion-pound leisure complex in Banbury.
The Castle Quay 2 project included a cinema, hotel and supermarket and was being brought forward by Aberdeen Standard Investments. It had already received planning consent.
In response Cherwell council has revealed it is preparing a plan to undertake the development itself.
It said it was in the "early stages" and a decision is due on 18 December.
The new complex would be an extension to the Castle Quay shopping centre, which is also mainly owned by Aberdeen Standard Investments.
A number of brands including The Light cinema, Lidl and Nandos have committed to the scheme and work had been due to start this year.
Cherwell District Council's lead member for finance, Tony Illott, said the project would "just die" if the authority did not step in.
'No job losses'
He felt Aberdeen Asset Management's merger with Standard Life was behind the investment fund's decision to pull out.
"They've been taken over by another larger company and they don't feel it fits into their portfolio," he said.
The council is now considering buying the existing shopping centre outright as well as backing the extension plans.
It said there are "no indications" of how much it would cost, other than it would be "tens of millions of pounds".
Aberdeen Standard Investments has run Castle Quay, which currently has 88 units, for more than a decade.
If the purchase by Cherwell District Council goes ahead, the authority said work on the Castle Quay 2 project could start next summer and be finished by winter 2019.
No compulsory job losses are expected as part of any purchase by the council, which said staff would be offered the chance to transfer.